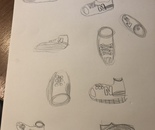 "shoes"
I love this artwork because shoes are my favorite thing! My shoes can make or break an outfit for me. Shoes are a very very big thing for me!
"star book"
This project was one of my favorites. I loved the construction part of this project. I was able to fully use my skills and be very proud of myself after this project!
"clay food"
For this project I did clay soup. My idea for this artwork came from when I was getting my wisdom teeth out. At this point I was eating lots and lots of soup!