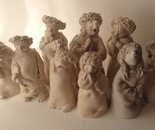 "Ten little Angels"
Based on a recent Nativity play, I created a set of 10 wiggly, fidgetty little angels.
"November Zinnias"
This small still life is one of many watercolours of flowers, each available in print and as cards. They are all painted from life and primarily chosen to reflect different colour palettes. It stands about A4 size and, as with all my work, is painted using top quality artists materials, onto cotton rag paper.
"Homage to Gilbert"
This highly carved piece of stone is one that has been removed out of Canterbury Cathedral in Kent, during ongoing restorations. It's made from Lepine and so is quite white with millions of tiny flecks of grey fossil matter contained within it. I never use power tools on my stone carvings out of a sense of tradition and so this represents months of painstaking hand tooling.