"Persimmons"
Persimmons teach us to be patient waiting for just the right time to enjoy their delicious pudding like taste.
"Winkin Blinkin and Nod"
4.5 x 6, three sunflowers compete for attention in their last days before nodding off.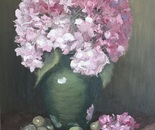 "Pink Hydrangeas"
14x11 soft pillow like petals offer an equal soft fragrance.