"Et la vie continue..."
"Et la vie continue..." was inspired by the Covid 19 situation. While we are confined in our houses, nature continues as if notihng had happened. Life goes on.
"Plus noir que la nuit."
My black cat at night. My son once said trying to find him after dark that he was darker than the night.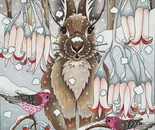 "Première neige "
A cotton tail bunny hiding under different plants at the first snowfall.