"Art is every single of my heartbeats"
Renate Schweizer is a free intermodal fine Eco artist.
Living and working within the arts since her childhood,
Art as an act of beauty, peace, and responsibility for the ecological footprint of the art.
2 dimentional works: material painting, mixed media,
3 dimentional work: installations, masks, sculptures
- national and international exhibitions and art-projects.
See more:
website: http://www.renate-schweizer.net
https://m.youtube.com/user/RenateSchweizer
find her on facebook: https://www.facebook.com/RenateSchweizerArtist
https://vimeo.com/renateschweizer
Publications & catalogues:
https://issuu.com/renateschweizerart
https://about.me/renate_schweizer/
---
Portfolio:
Since 2005 I use old used teabags from all over the world as my basic art-material.
In contemporary art and an visuell fine artist I have to be responsible for resources and health of the earth as the source of all nature and beings.
I am aware and responsible for my ecological footprint, and that's why I am working with old used material since my beginning art-life in my childhood, always creating new treasures out of old trash stuff. This Portfolio is showing the basic material from using old tried teabags
"Transformations"
10 years ago I began the artproject, "Come to the dinner - an invitation to all religions and nations" and the "world-citizen blanket" with collected used tea bags as basic material .... What is the philosophical background of this artproject? How did it start? Who supplies the tea bags? Where is the artproject today ... "The beginning ... the way ... the development .. the current state ... Is art from tea bags art at all? ... make your own sense on the spot ..
Seit 10 Jahren "Kommt zu Tisch - eine Einladung an alle Religionen und Nationen" und die "Weltenbürgerdecke" aus gesammelten Teebeuteln.... Wie kam es dazu? Wer liefert die Teebeutel? Wo steht das Kunstprojekt heute ..." Der Anfang... der Weg... die Entwicklung.. der aktuelle Stand... Ist Kunst aus Teebeuteln überhaupt Kunst? ....
"Weltenbürgerdecke"
"Weltenbürgerdecke" -Installation
"Weltenbürgerdecke"
Part oft the installation "Weltenbürgerdecke" in the running exhibition "Akten und andere Hinterlassenschaften", Kunstverein Graz, Regensburg, Germany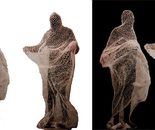 "catched souls "
dealing with the conlict of women in some parts of the world today
Sculptures made of old used teabags
"InnerOut"
material: old used teabags
size: 120 x 80x 80
year: 2016
- "Weltenbürgerdecke"
- "Kommt zu Tisch - eine Einladung an alle Religionen und Nationen"
- "Der Tisch ist gedeckt"
- "WeltenBürgerWelt"
Installationen
https://issuu.com/renateschweizerart/docs/installationen
https://issuu.com/renateschweizerart/docs/installation_gg3000neu
My wearable eco-fashion made of old used teabags
at the annual Hanji Paper fashion sho in Jeonju, South Korea